IAOAl's blended learning update
Since the final week of March, due to the Coronavirus lockdown, our teaching and learning has transitioned to a blended learning format where students study online via Zoom and go to the school for assessments. However, our classes have continued to be exciting, colourful, dynamic and flexible.  Students can still go through all the course contents while participating in many communicative activities, games, and meaningful practices.
Students have more opportunities to practise their spoken languages via storytelling activities, debating, and task-based group discussions.
Students have more chances to dissect the target languages via various reading, vocabulary and grammar activities. Teachers have made the most from technology to facilitate students' learning. Detailed explanations for grammar and reading activities as well as on-the-spot corrections for writing are really appreciated by students.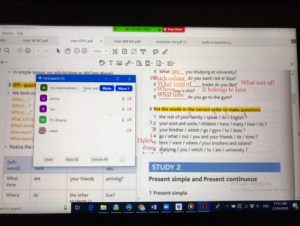 Games are a very important part of our classes and using games for studying English has long been proved an extremely engaging activity. Our teaching staff has been using various games such as Quizlet, Quizzes, Kahoot, Cake, Liulishuo, Voicetube in their teaching to create very exciting online classes.
Last but not least, our teaching and admin staff members have been working very hard to support students. Together, we create a community of practice to share our teaching resources and practices. We believe that together we can get through to the other side of the pandemic safely and strongly.